Whenever Washington politicians get together on something "bipartisan," there's a very good chance it's a lobbyist-driven initiative — one that will enrich the lobbyists'' patrons, generate campaign funds for pliant politicians, and stick it to pretty much everyone else.
Want to know where a "bipartisan" bill comes from? Follow the money.
Scene of the Crime
The so-called "JOBS" Act is a good example: The acronym stands for "Jump Starting Business Startups," but a better name would be "Jivers' Opportunity to Bilk Suckers." The bill is a sham that declares open season on hapless investors while offering a money-making bonanza to a variety of wealthy political patrons. And it passed the House this month with an overwhelming majority.
Bills like this one don't just write themselves. Washington insiders know that many of them are drafted by industry lobbyists, then delivered to compliant legislators to be submitted and passed as "bipartisan" solutions.
But figuring out who's behind the "JOBS" Bill is a challenge. It's like one of those Agatha Christie mysteries that takes place on a wealthy estate — which is appropriate, given the average personal wealth of a Washington politician — where everybody in the story is a suspect.
Motive
There has been a lot of reporting on the bill's contents, which are currently being debated on the Senate floor, so we'll stick to the highlights: It allows startups to advertise for private-citizen investors (sometimes called "crowdfunding"), so a lot of people could be suckered into unwise investments with their own savings; it makes it easier for banks and bank holding companies to play in the investment world again, effectively undoing anything resembling the Volcker rule for these investments; it gives a tax break to millions of "small businesses," which in its definition would include multimillionaire financial advisors, attorneys, plastic surgeons and the like, none of whom would create additional jobs; it allows companies to conceal key facts, such as the amount they pay their own executives; and it eases accounting and other regulatory requirements for so-called "emerging growth companies," giving them far greater license to bilk and deceive those "crowdfunders." (Crowdfunding is a good idea if done properly, but that's not the real goal of this bill.)
Oh, and those "emerging growth companies" could generate as much as a billion dollars per year and still be considered "startups." The economic data's clear on that point: Companies of this size don't generate jobs; smaller ones do.
Opportunity
It's a good thing your humble correspondent has worked on Wall Street. Otherwise it would be possible to believe that the one-billion-dollar limit, although it's ridiculously high, actually means something.
In real life, that sort of thing's easy to get around. When your massive corporation approaches the one-billion-dollar mark — even after your high-priced lawyers and accountants have used all their tricks to lower its reportable income — then all you have to do is split the company into two new ones. That way you get to continue evading all the accounting rules — and you can raise even more money from the suckers!
(An amendment's being offered that would moderate some of the bill's more egregious provisions, and is currently being debated, along with the House version of the bill, on the Senate floor.)
It's hard to figure out who's behind the bill when many wealthy and powerful interests stand to benefit from it. Goldman Sachs specializes in packaging IPOs of this kind — and in ruthlessly bilking its own so-called clients — so it's a prime suspect. But every other Wall Street bank does the same thing, and all of them have their own PACs and lobbyists.
Wealthy attorneys and financial advisors will also make a killing if this bill passes.
Prime Suspect
But my money's on the National Venture Capital Association, since it's been the loudest Beltway backer of this bill. They have the resources, the means, and the will to draft a bill of this kind. They've been ramping up their spending over the last decade, and they're on track to spend even more this year: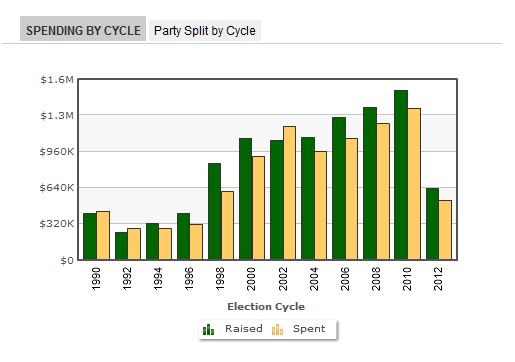 And look at their political contributions during the past few billing ... er, I mean, political fundraising cycles: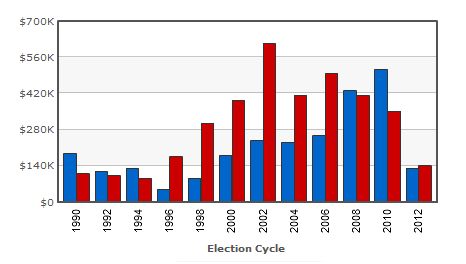 (above information via Open Secrets)
So far this year the VC Association has given 52 percent to Republicans, 48 percent to Democrats. In 2008 they gave 51 percent to Democrats and 49 percent to Republicans. (Democrats controlled the House that year.) And in 2010 they leaned more heavily Democratic, but still split fairly evenly.

"You're probably wondering why I've called you all here ..."
Still wonder where all this "bipartisanship" came from? As we were saying: Follow the money. The NVCA gives more money to the party that's in power, but greases all wheels in a "bipartisan" way to make sure it can claim victories like this week's House vote.
But we have no evidence that the NVCA actually drafted this bill. The truth is that the bill benefits so many different wealthy interest groups that it's hard to tell which one of them actually did the deed itself. It could've been the Goldman Sachs PAC. Or the JPMorgan Chase PAC. Or the Investment Company Institute PAC. Or the Securities Industry and Financial Markets Association PAC. Or lobbyists for a variety of other interest groups and corporations.
It really is like an Agatha Christie novel, when you think about it; the kind where you find out in the end that all of the suspects were guilty parties. And there's a word for deeds that are committed by more than one party:
Bipartisanship.