Support South Dakota
I'm re-posting this as a reminder.
Bill Napoli's SD virgin rant: 3-6-06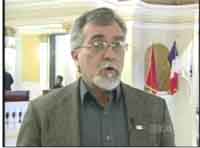 Digby wrote about this last week from this PBS show. It's always much more powerful listening and seeing the people who promote these draconian positions.
BILL NAPOLI: A real-life description to me would be a rape victim, brutally raped, savaged. The girl was a virgin. She was religious. She planned on saving her virginity until she was married. She was brutalized and raped, sodomized as bad as you can possibly make it, and is impregnated. I mean, that girl could be so messed up, physically and psychologically, that carrying that child could very well threaten her life.
When you hear Napoli's little monologue, he sounds like a man from one of those Satanic cult movies.
There are a lot of people in South Dakota that are against the Napoli Agenda. Show them some love.