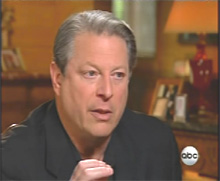 Gore joined George and spoke about his movie and if he is considering running in '08.

Download -WMP
Download -QT (5 minutes)
At this point he doubts it because he's enjoying the freedom of highlighting the issue of Global Warming,
ABC has posted the full interview here.
Duncan: "An Inconvenient Truth hits #9 for the weekend box office despite being played at only 77 theaters. Brings in a total of $1.7 million."