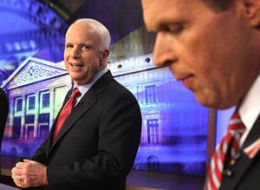 So where's that huge anti-incumbent, pro-Tea Party wave, mainstream media?
After funneling $21 million into his campaign, Arizona Sen. John McCain successfully withstood a primary challenge from former U.S. Congressman J.D. Hayworth on Tuesday night.

Once labeled a vulnerable incumbent, the four-term Arizona Republican was the clear front-runner against Hayworth going into the race in which he cast his opponent as a late-night infomercial huckster in a series of devastating ads.

"I have stood up and led the fight as a fiscal conservative and a leader on national defense and a strong supporter of the men and women who are fighting and sacrificing for this nation," McCain told a woman who questioned his record at a town hall meeting last week.
McCain quickly abandoned his "maverick" status to run to the right of Hayworth, with such obvious gimmicks as his "Build the dang fence" ad. As it turned out, his flip flops were of questionable value, since appealing to only those lizard brains of Arizona proved to be a losing strategy for Hayworth.
But the biggest funny-but-true laugh of the night came from DNC National Press Secretary Hari Sevugan, who sent out this statement via email:
"Today, the Republican party of Arizona nominated for Senate JD Hayworth in the shell of a politician that was once John McCain. The complete takeover of the Republican party by the Tea Party has included taking over the soul of a Senator who was once the face of comprehensive immigration reform and who now would just build the 'danged fence;' a man who once reveled in being a maverick and who now is a rubber stamp for the extreme rightwing; a man whose name was synonymous with campaign finance reform and who now barely registers a notice when the law that bears his name was gutted by the Supreme Court to favor corporate America. So, we congratulate JD Hayworth on his nomination tonight," said DNC National Press Secretary Hari Sevugan.
Oh ouch. That left a mark.