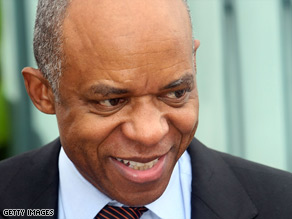 Apparently, like Alaskans, the residents of Louisiana's 2ND congressional district don't like being represented by (alleged) criminals. Even in a Democratic +28 PVI district.
CNN:
Nine-term Democratic Rep. William Jefferson, who has been battling scandals and a federal indictment for the past three years, lost his bid for re-election on Saturday.

Republican challenger Anh "Joseph" Cao, an attorney and community organizer, defeated Jefferson in the 2nd Congressional district race. He will become the first Vietnamese-American elected to Congress.

With 100 percent of precincts reporting, Cao had almost 50 percent of the vote to Jefferson's 47 percent.
Looks like Cao is taking a page from Obama's "community organizing" playbook. I'm sad to see this seat go red, but let's face facts: William Jefferson was a huge stain on the Democratic Congress. I don't know much about Cao, and I'm sure I probably disagree with him on most (if not all) of the issues, but it's nice to see the Vietnamese community finally represented in the United States Congress. Congratulations, Congressman-elect.