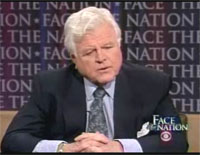 Ted Kennedy was on "Face The Nation," this morning to defend himself against Dick Cheney's assertion that he lives in a pre-9/11 world. A ridiculous claim by all parties associated with those talking points and one that tries to justify their actions that have resulted in the many problems for our country. Make a list.

Download -WMP
Download -QT
Kennedy: He's been wrong in every single instance...
Ted Kennedy listed all the times Cheney has been wrong-which are many....