Hardball: Possible damage caused by the War on the Wilsons.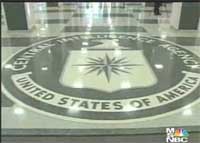 David Shuster delves deeper into the impact Plame's outing has had on the CIA and the work being done on Iran.

Download -WMP
Download -QT
The Libby indictment says, quote, "on or about June 12, 2003, Libby was advised by the Vice President of the United States that Wilson's wife worked at the Central Intelligence Agency in the Counterproliferation Division." In the Intelligence community, that division means something special.
Rand Beers: You know for a fact that firstly, the people who work there could be undercover agents working in that office or people on the agent's side of the CIA. And secondly, the issues were among the two most important issues the CIA was working on."
Here's the pdf file of "Frank Lautenberg's letter" to Porter Goss on the Plame/Iran connection discussed on MSNBC last night and in Raw Story a month ago.
(h/t David Edwards and Lynne for the clip)