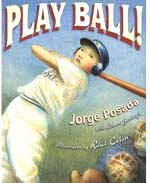 As many of you know I'm a big baseball fan. Jorge Posada plays catcher for the NY Yankees and has his own foundation "which provides financial assistance to cover certain medical needs for children who are affected by Craniosynostosis and to encourage further research of this medical condition, which to date has left several questions unanswered. Posada's son is afflicted with this condition and has had to undergo five major surgeries to correct the condition."
Posada has written a children's book called "Play Ball," and he plans to donate proceeds of the sales to help children with this terrible medical condition. I remembered seeing this:
NY Times: (reg req) July 16, 2003 "Jorge Posada IV created a cute and memorable scene before last year's All-Star Game as he jogged onto the field ahead of his father when the starting lineups were announced. Little Jorge was wearing a No. 20 Yankees uniform, just like his father's, and even had lamp black under his eyes."
I just heard about the book so I thought I would pass it on.