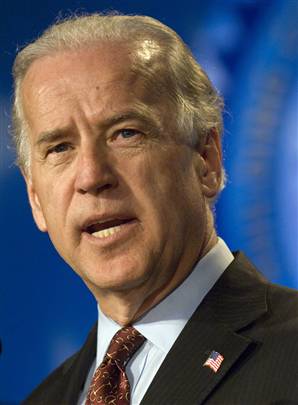 Good ol' Joe strikes against the neocons' drumbeat for war:
Iran's influence in Iraq has been exaggerated and Tehran's efforts to shape parliamentary elections in the country "utterly failed," US Vice President Joe Biden said on Monday.

In a speech to veterans, Biden played down Iran's role in Iraq, defended the scaled-back US mission in Iraq and argued that the country was on the road to political stability.

"Iranian influence in Iraq is minimal. It's been greatly exaggerated," Biden told the Veterans of Foreign Wars in Indianapolis, Indiana.

"The Iranian government spent over 100 million dollars trying to affect the outcome of this last election to sway the Iraqi people, and they utterly failed," he said, referring to the March polls.

"And it's because politics and nationalism has broken out in Iraq. The Iraqi people voted for their desired candidates, none of whom, none of whom -- let me emphasize this -- none of whom were wanted by Iran."

Biden said that Iraqi Prime Minister Nuri al-Maliki and his rival for the premiership, Iyad Allawi, were both deemed "persona non grata" by the authorities in neighboring Iran.

US officials and some lawmakers in Congress have previously voiced concern about Iran's role in Iraq.
I bet that just makes William "Always Wrong" Kristol so hopping mad. After all, he's been lobbying for and predicting an imminent attack by the US of Iran for years.