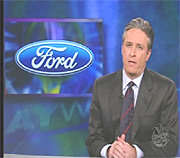 Guess what topic was included in this segment on The Daily Show? That's right- Ford. Don't forget to buy your "Inseminator " now. It might be a hybrid or it might be something completely different.
AmericBlog has the full story about Ford on his blog.
Stewart: America is less progressive than South Africa...