Beating the Gay out of you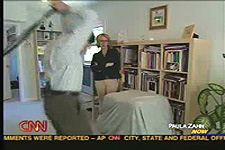 Reader Charles sent me this clip from the Beating the Gay out of you
">Paula Zahn show. To say that it's disturbing is an understatement. Watching Cohen beat a pillow with a tennis racket says it all.

Download -WMP
Download -QT
Pam has the full story:
"Paula Zahn had infamous "ex-gay therapist" (or as he calls himself, "conversion therapist") Richard Cohen on last night in a segment called "New Therapy Claims to "Cure" Homosexuality." The transcript doesn't describe what Cohen does next on the video to demonstrate his therapeutic "techniques...read on"