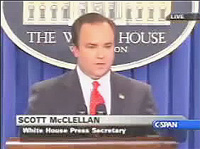 Yesterday's gaggle was no fun for McCLELLAN, as he tried to cover for the President's commenting on Tom Delay's trial, while remaining silent on PlameGate.
David: But it's hypocritical. You have a policy for some investigations and not others, when it's a political ally who you need to get work done?
MR. McCLELLAN: Call it presidential prerogative; he responded to that question. But the White House established a policy --
Download -QT
Download -WMP (hat tip OneGoodMove)
Q: Doesn't it raise questions about his credibility that he's going to weigh in on some matters and not others, and we're just supposed to sit back and wait for him to decide what he wants to comment on and influence?
McCLELLAN: Congressman DeLay's matter is an ongoing legal proceeding --
Q As is the Fitzgerald investigation --
McCLELLAN: The Fitzgerald investigation is --
Q -- As you've told us ad nauseam from the podium.
(Full transcript here)