Condi: I am not a crook! Sorry, I meant: I am not a lawyer!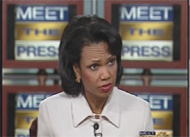 Condi Rice was grilled pretty good by Tim Russert this morning over the NY Times-Bush spy story. You can see that they haven't had time to come up with some really good talking points yet. Ken Mehlman is probably pulling a "super- duper-super secret- double duty," Sunday talking points emergency session-getting prepared for the upcoming week of 24/7. Can we wiretap his strategy mettings?
MR. RUSSERT: What are the other authorities?
SEC'Y RICE: Tim, again, I'm not a lawyer, but the president has constitutional authority and he has statutory authorities.
Download -WMP low res-good sound
Download -QT Bittorrent-QT
RUSSERT: What Democrats and Republicans in Congress are asking, what is the authority that you keep citing? What law? What statute? Where in the Constitution does it say that the President can eavesdrop, wiretap American citizens without a court order?
RICE: Tim, the President has authorities under FISA which we are using and using actively. He also has authorities that derive from his role as Commander in Chief and his need to protect the country. He has acted within his constitutional authority and within statutory authority. Now, I am not a lawyer and I am quite certain that the Attorney General will address a lot of these questions. (Full Transcript)
That was a theme she had a few times today. Wouldn't you think she would know what the law is before she came on the show? Of course she does.
Deanne Stillman writes about Bush's wiretapping on the Huff Post: The Tippling Point