C&L's Late Night Music Club with Tower of Power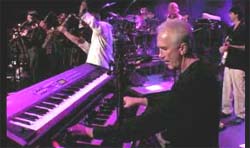 Rickey Wright:"Tower of Power blew--literally--out of the Bay Area's early-'70s scene. AE: It has always been difficult to describe Tower of Power's music; even band members, when asked, give a myriad of responses. Says founding member and saxophonist Emilio Castillio, "What Tower of Power plays is urban soul music."
I'm posting this live performance of their classic tune "What is Hip," for two reasons. The first is because I loved the band and if you haven't been to one of their shows, you're really missing out.
Click here to see the video (March of 2005)
Secondly, in this clip you'll see Mike Finnegan play the Hammond. Why is that important to me? He's one of the finest people I know and...he does "Mike's Blog Round Up" almost everyday on C&L. Mike has been a regular with Crosby Stills and Nash for over twenty years and has played with many of the greats including Joe Walsh, Etta James, Taj Mahal and Jimi Hendrix.
Tower of Power's website...The first song I heard by them was "Only So Much Oil In The Ground."
They have a few different greatest hits albums. Here's the one I own.