Remember this man? I posted on him 3/6/06.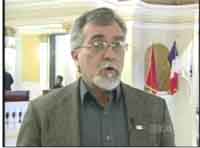 Digby wrote about this story a while ago, but there is an effort being made now to oppose SD's twisted bill. Here's Napoli's evil rant that really tells you all you need to know about his draconian positions.
BILL NAPOLI: A real-life description to me would be a rape victim, brutally raped, savaged. The girl was a virgin. She was religious. She planned on saving her virginity until she was married. She was brutalized and raped, sodomized as bad as you can possibly make it, and is impregnated. I mean, that girl could be so messed up, physically and psychologically, that carrying that child could very well threaten her life.
When you hear Napoli's little monologue, he sounds like a man from one of those Satanic cult movies.
There are a lot of people in South Dakota that are against the Napoli Agenda. Show them some love. Check out the new ad against Napoli and read how calculating these people are...