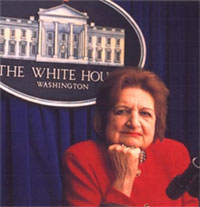 (Guest blogged by Logan Murphy)

The Huffington Post:
Woo-hoo! It's a happy St. Patrick's Day indeed for Helen Thomas, who was just officially re-awarded her front row seat in the White House Briefing Room after it had been rudely snatched away last month, owing to the combination of less seats in the newly-refurbished briefing room (7 seats in the front row instead of the previous 8.) and the fact that both Fox and CNN had been agitating for a front-row seat. Instead of picking between them, Thomas was booted.

Meanwhile, whither that lone front-row seat? Who gets it, Fox or CNN? We'd keep you in suspense except that our headline gave it away: CNN was awarded the seat based, it seems, on seniority: "27 years of covering The White House." Fox only just celebrated its 10-year anniversary this past November, so the seniority metric is an easy one to apply, though the WHCA did note that CNN had made the cut "also for the "resources it brings to the in-town and travel pool," which we guess means Fox needs to beef up somewhere. Memo below; thanks to FishbowlDC for the intel! Read more...
Better late than never, right? It was an outrage that she lost her seat to begin with, but a true insult to seat her behind a Foxhole . It's becoming clear now that Fox is losing their influence, even with the White House. Congrats, Helen. Keep up the great work.