Thursday's bad news: Third-quarter GDP lands with thud: just 1.5 percent growth. That is down from 3.9 percent growth the previous quarter. The economy appears to be slowing, partly because of the drag effect of our trade deficit and partly because of the drag on the economy due to austerity policies (federal spending cuts that take money out of the economy).
In the presidential campaign Republican candidates are proposing even more austerity as a solution to the lackadaisical recovery, combined with tax cuts for the rich and deregulation of Wall Street and the giant corporations. Democrats, on the other hand are proposing infrastructure investment and a number of other positive solutions.
The GOP Debate
Wednesday's debate had the Republican candidates offering anti-government solutions like deregulation to limit government protections, austerity to defund government, getting rid of universal healthcare and (of course and always) tax cuts for the rich. They claim that "government is the problem" with the economy and drastically cutting government will release the economy from slow growth and stagnation. They call this a "pro-growth agenda" and say people who oppose their proposals are "anti-business."
Because nothing grows an economy like taking money out of the economy through austerity, letting the infrastructure fall apart, keeping people from gaining education, plugging up underfunded courts, and keeping people from being able to get medical care.
Because nothing grows the economy like blocking people from getting raises through organizing unions or boosting the minimum wage, and increasing inequality with tax cuts for the richest.
Because nothing grows an economy like allowing monopolies to crush small businesses and innovation, allowing giant banks to scam consumers and allowing billionaires ("job creators") to run everything.
The Republican solutions are an agenda for their billionaire donors at the expense of the rest of us. But what else would you expect?
Republican Candidates
● In Wednesday's debate Donald Trump said:
We're going to make a really dynamic economy from what we have right now, which is not at all dynamic. We're going to bring jobs back from Japan, we're going to bring jobs back from China, we're going to bring, frankly, jobs back from Mexico where, as you probably saw, Nabisco is leaving Chicago with one of their biggest plants, and they're moving it to Mexico.

We're going to bring jobs and manufacturing back. We're going to cut costs. We're going to save Social Security, and we're going to save Medicare.
Trump's campaign website only has tax reform as an economic plan. Trump proposes cutting the top income tax rate to 25 percent, the corporate tax rate to 15 percent and eliminating taxes on income from inheritances. He would let companies currently hoarding more than $2.1 trillion outside the country bring it back at a rate of 10 percent, even though they owe 35 percent on it.
● Ben Carson, (answering a question about his greatest weakness), said, "... we're talking about America for the people versus America for the government." Carson said of regulation:
Well, the average small manufacturer, whatever they're manufacturing, drugs or anything, if they have less than 50 employees, the average cost in terms of regulations is $34,000 per employee.
The number he cites is from the National Association of Manufacturers (NAM). Most of this "cost" is due to environmental regulations and what they call other "economic costs" of regulations. (NAM's study also says the cost of tax compliance is $378 and "occupational safety and health and homeland security regulations" is $1,048.)
Carson's campaign website proposes "wholesale tax reform" (elsewhere he has proposed a "flat" tax of 10 percent) and a balanced budget amendment to the Constitution.
● Marco Rubio said, "Under my plan, no business, big or small, will pay more than 25 percent flat rate on their business income. That is a dramatic tax decrease for hard-working people who run their own businesses. ... it is the most pro-growth tax plan that I can imagine because it doesn't tax investments at all. "
Rubio's campaign website says, "...we must build the most business-friendly economy in the world." He would cut corporate taxes to 25 percent with no tax on profits moved out of the country. He would put "a ceiling on the amount U.S. regulations can cost our economy." He would "remove union-imposed obstacles to pay increases for millions of workers" but does not explain what that means, but also says he would impose "right to work" on all unions. He would "reform" the National Labor Relations Board (NLRB) to make them stop helping workers and their unions. He would fight regulations on corporations and "roll back regulators' ability to strangle job creation and restore Congress's ability to oversee regulation."
● Carly Fiorina, answering the question about her weaknesses went populist, saying the cause of our problems is government corruption, "... this big powerful, corrupt bureaucracy works now only for the big, the powerful, the wealthy and the well-connected. Meantime, wages have stagnated for 40 years. We have more Americans out of work or just Americans who quit looking for work for 40 years." Her solution? Get the middleman (corrupt government) out of the way and just let the giant corporations and billionaires control things directly.
Fiorina proposed reducing the entire U.S. tax code to 3 pages so no one has to hire someone to do their taxes. She said we need to get rid of Obamacare, "The bad news is, we have 470,000 going out of business every year. And why? They cite Obamacare."
(Fiorina's campaign website is video-oriented without searchable text that can be cited, making it difficult to research and report her positions.)
● Rand Paul appeared to say the solution to economic problems is to shut down the government.
"Well, you know what I'm worried about? Not keeping the government open. I'm worried about bankrupting the American people.

We're borrowing a million dollars a minute. That is important. And that's what we have to contrast. Keeping the government open and continuing to borrow a million dollars a minute."
Paul's campaign website talks about the "fiscal crisis that faces our nation" and proposes balancing the budget. He proposes to "cut spending in all areas" with no specifics and says he "will work to authorize common sense solutions that will solve our nation's fiscal crisis."
After saying we face a "fiscal crisis," he proposes cutting tax rates to 14.5 percent with a "Fair and Flat Tax," and lowering the corporate tax rate to 14.5 percent with no taxes on profits moved out of the country.
He promises to "cut regulations and take power away from unelected bureaucrats who are trampling our freedom and rights."
● Jeb Bush said, "Simplifying the code and lowering rates, both for corporations and — and personal rates, is exactly what we need to do. You think about the regulatory cost and the tax cost — that's why small businesses are closing, rather than being formed in our country right now." In his closing, he said, "Imagine a country where people are lifted out of poverty again. Imagine a country where the middle class can get rising income again. I know we can do this because we're still the most extraordinary country on the face of the Earth."
Bush's campaign website's "Reform & Growth" page lists mostly tax policies. It says he wants "to lower taxes and make the tax code simple, fair and clear." He proposes lowering the top tax rate to 28 percent and the corporate rate to 20 percent. He proposes eliminating taxes on inherited income. He proposes no taxes on profits that corporations move out of the country. Where Trump proposes letting corporations who have hoarded $2.1 trillion of the hook at 10 percent instead of the 25 percent they owe, Bush proposes only making them pay 8.75 percent.
Jeb!'s website says of regulation, "We still have to reduce the regulations that choke so much of the U.S. economy, especially farms, factories and power plants." "Taken together, these policies will unleash increased investment, higher wages and sustained 4 percent economic growth, while reducing the deficit."
● Most of the candidates complained about budget deficits and said the government is going "bankrupt," but then offered massive tax cuts for the wealthy and corporations as a solution to they very economic troubles that they attributed to deficits. (Note that the deficit is down dramatically from the $1.4 trillion deficit of Bush's last budget, the federal debt is currently falling as a percent of GDP, and many economists attribute the slow recovery to this.)
Democratic Candidates
The Democratic candidates all take a near-opposite approach. They are all proposing increased investment in infrastructure and investment in other job and economic programs as a path to help the economy. Sanders especially proposes addressing inequality and the "rigged" economy as a way to help raise wages and boost growth.
Clinton has added efforts to fight "short-termism" in business operations. Sanders and O'Malley want to expand Social Security while Clinton wants to "preserve, protect and strengthen" it, and enhance it only for the "most vulnerable" seniors.
The Candidate Scorecard rates the Democratic candidates against the Populism2015 platform on jobs as follows:
● Sanders: 100 percent. He commits to full employment and supports a 5-year $1 trillion investment in infrastructure and an infrastructure bank.
● Clinton: 75 percent. She has put forth a plan to raise wages that includes, among other things, infrastructure investment, support for transitioning to clean energy, and other initiatives that would expand employment opportunities for all. She supports increased investment in infrastructure, but hasn't identified a specific amount, and has proposed an infrastructure bank.
● O'Malley: 75 percent. He commits to full employment and supports increased investment in infrastructure but hasn't detailed how much he would spend.
Do Tax Cuts Grow The Economy?
Republicans claim that tax cuts for the rich and corporations unleash "job creators" to hire more people. But tax cuts defund government, limiting infrastructure investment and investment in education, and reducing the ability of courts to adjudicate business disputes. All of these improve the conditions in which businesses prosper.
There have been studies into the claims that tax cuts boost the economy. A 2012 Atlantic article, "Tax Cuts Don't Lead to Economic Growth, a New 65-Year Study Finds" begins,
Here's a brief economic history of the last quarter-century in taxes and growth.

In 1990, President George H. W. Bush raised taxes, and GDP growth increased over the next five years. In 1993, President Bill Clinton raised the top marginal tax rate, and GDP growth increased over the next five years. In 2001 and 2003, President Bush cut taxes, and we faced a disappointing expansion followed by a Great Recession.

Does this story prove that raising taxes helps GDP? No. Does it prove that cutting taxes hurts GDP? No.
The article cites a study that shows no boost from cutting taxes. (It did not look at long-term effects resulting from the resulting cuts in infrastructure, education, and other needs.) However, cutting taxes does clearly lead to something else: greater inequality.
Analysis of six decades of data found that top tax rates "have had little association with saving, investment, or productivity growth." However, the study found that reductions of capital gains taxes and top marginal rate taxes have led to greater income inequality.
Does Deregulation Explode Growth?
Republicans say that if we had fewer regulations the newly unleashed economy would explode. Republican calls for fewer regulations usually mean regulations on pollution by oil and coal companies. But they also complain about the cost of health and safety rules, regulation of chemical companies, even regulation of Wall Street.
Here is an example of (de)regulation of Wall Street exploding the economy – downward: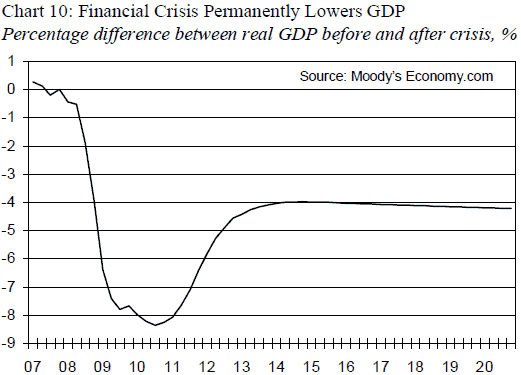 Here are a few examples of de- and underregulation exploding things: "Unregulated West, Texas fertilizer plant exploded, killing 15, injuring another 160":
Oil train derails in North Dakota:
Another, a West Virginia CSX oil tanker train derailment:
-------
This post originally appeared at Campaign for America's Future (CAF) at their Blog for OurFuture. I am a Fellow with CAF. Sign up here for the CAF daily summary and/or for the Progress Breakfast.