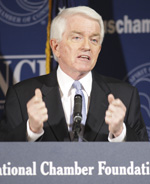 The United States Chamber of Commerce has released an "open letter" to the President, Congress, and the American people which contains its blueprint for our political future. It lays out the current Republican playbook in stark terms, and it reads like the battle plan for those alien spaceships from Independence Day: Drain the resources, take everything from the population, strip the land to a husk... and then presumably sail away in mile-long spaceships toward the next targeted planet.
What we're seeing is the Politics of Plunder, revealed in all its nakedness. There will be another example of this corporate-driven mindset this week, possibly even today, when all but a handful of Republican Senators vote against a moderate set of curbs on Wall Street excesses. The Democratic Party may disappoint its supporters from time to time, but it seems that Republicans never do -- once you accept the fact that its real "supporters" are the mega-businesses represented by the Chamber of Commerce. Some of the delegates who chanted "drill, baby, drill" at the GOP Convention are staring out their windows at oil-soaked beaches, while others have gone broke in an economy ruined by Wall Street gambling. That won't stop the Politics of Plunder. (Come to think of it, "drill, baby, drill" would have been a perfect motto for those spaceships.)
To be clear, the Chamber of Commerce isn't the political lobbying arm of "business," as it sometimes claims. It specifically serves the interests of massive businesses, which are often at odds with the needs of small and medium enterprises. Any CEO of a smaller company who's pressured by one of the Chamber's sales representatives to join, as I was in my business life, is being asked to subsidize policies that will benefit the Chamber's mega-donors -- often at her or his own expense. The Chamber's letter serves those mega-interests well, and we can expect most Republicans to follow it in lockstep, no doubt with cheering crowds pumped up for the same old chants and a few new ones.
"Drill, baby, drill." The lessons of BP are lost on this crowd -- or, to be more accurate, they don't matter. The Chamber's letter says that "there are numerous oil, gas, and shale leases on our lands and off our shores that are currently inactive. Some estimates show that they could generate as much as $1.7 trillion worth of royalties over the next 10 years. (Note: We heard that using 10-year timelines to create impressive-sounding numbers was "cheating" when the Administration did it.) Tapping these reserves would create direct federal revenues and hundreds of thousands of jobs."
The devastation of our Southern coastlines has not dimmed the Chamber/GOP crowd's thirst for drilling in costly, inaccessible, and dangerous areas. This letter, purportedly about "jobs," ignores the many jobs that have been lost because of the spill, and the thousands of small businesses devastated by the loss of fishing and tourism. It doesn't matter: The Politics of Plunder demands revenue for the largest businesses -- most of which would be generated by foreign sales of these resources, and very little of which would be returned to the US economy.
"Gamble, baby, gamble." Millions of American jobs were lost because of Wall Street's reckless, runaway gambling binge. The Chamber/Republican response is to whine about the Dodd/Frank bill, which is nothing more than a simple first step on the road toward comprehensive financial reform. "The soon-to-be-finalized financial regulatory reform legislation creates over 350 regulatory rulemakings, 47 studies, and 74 reports," the letter reads, "dwarfing anything in Sarbanes-Oxley."
The use of these kinds of numbers is a common rhetorical trick for the megabusiness/GOP crowd. Somehow we're expected to believe that the leaders of major corporations are overwhelmed by the complexity of "350 regulatory rulemakings" -- as if they don't have people who handle that sort of thing. Remember, we're talking about Wall Street here: banks and hedge funds, here not Norman Rockwell small-town grocers who will be overwhelmed by paperwork. The real purpose of this complaint is to provide cover for all those "no" votes we will see this week - each of which is a vote to continue the enrichment of wealthy financiers at the expense of the American economy.
"Loot, baby, loot." The GOP and its Democratic Blue Dog sympathizers don't want to vote for unemployment benefits or stimulus programs because, we're told, they're so concerned about the deficit. But when it comes to preserving tax cuts for the wealthy it's "deficits be damned." Sen. Jon Kyl's recent comments on the subject expose the inconsistency.
Here, too, the Chamber slavishly serves the mega-wealthy at the expense of other businesses and the American people. "(J)ust six months from now," their letter reads, "Americans will be hit with the largest tax increase in history in precisely those areas that would have the greatest negative impact on investment and jobs -- individual tax rates, dividends and capital gains taxes, the death tax, and the alternative minimum tax." It's economic nonsense to say that these are the areas that most impact investment and jobs. What's more, these taxes on the wealthy have been artificially low in recent years, adding to the deficit while doing very little to stimulate the economy.
The Chamber's use of the ideological phrase "death tax" to describe the estate tax masks the fact that they're talking about a 2009 law that allows wealthy heirs to inherit up to $10 million while paying no taxes at all, while people who work for their money pay at the usual rates. (If you want to amuse yourself, do a Google search of right-wing "tax justice" websites that rail against lifting this exemption and try to find one that mentions the actual numbers involved. They don't want you to know who's actually getting this tax break. It should be called the "Poodles for Paris Hilton Act.")
"Starve, baby, starve." The letter says that "The Chamber looks forward to the report due later this year from the National Commission on Fiscal Responsibility and Reform." (Yeah, you bet it does.) "However, we already know that mandatory spending, especially in entitlements, is the primary culprit." Now that its clients have devastated the economy, robbing people of jobs and much of their savings, the Chamber is targeting an "aging population" in order to slash Social Security and other entitlement programs. Social Security is solvent for many more years and minor adjustments would make it completely viable indefinitely. But the mega-wealthy Chamber/GOP agenda demands that Social Security payroll taxes be redirected toward other government programs so they can fund further tax cuts for the rich.
Voters care more about helping the unemployed and getting Americans back to work than they do about cutting the deficit. Budget-slashing is a Washington fixation only, fueled by the think tanks and lobbyists that the Chamber/GOP crowd funds and promotes. But Chamber-driven Republicans hope that the public won't understand what they're doing, counting on "fatigue" and confusion to provide a smokescreen for the Politics of Plunder.
Those shadows over the nation's cities aren't spaceships. They're the very real threats that continue to loom over us: Continued unemployment. A damaged environment in risk of even greater devastation. Generations of older Americans who might be left without financial security. Republicans and the Chamber of Commerce want to use our economic crisis as a "shock doctrine" moment to pass measures that will continue a massive transfer of wealth to the upper one percent, while mortgaging the country's future to the economic interests that have already served it so poorly.
As the vote on financial reform will once again illustrate, this is not a movie.
_______________________________________________________________
This post was produced as part of Curbing Wall Street , a project of the Campaign for America's Future.