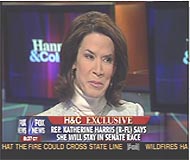 Katherine Harris told Sean Hannity that she's in the race and is going to use her inheritance to do it. She is very dissapointed that Republicans haven't supporter her.
Download -WMP low res
Download -QT
Jordy tipped me off to this segment.
"Harris' voice was often very dramatic as were her words. She declared, "Let me tell you what the truth is. I'm staying. I'm in this race. I'm going to win. And let me tell you how. I'm going to put EVERYTHING on the line. Everything, not just my future and my reputation, my father's name. I'm gonna take his legacy… Everything that I have and I'm gonna put it in this race. I'm going to commit my legacy from my father, $10 million… This is everything that I have...read on"
There's a petition that says: "Tell Katherine Harris: Elections Shouldn't Be For Sale"