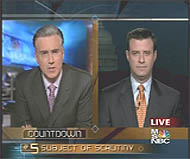 David appeared on "Countdown" with Keith Olbermann, and discussed Karl Rove and the Plame investigation.
You can read the transcript here.
SHUSTER: Now, regarding Karl Rove, the—according to the latest documents, for the first time, Rove is now described as a subject in the overall case, a subject being a technical term meaning that somebody is under investigation. And the latest prosecution documents also go out of their way to suggest that Rove is not going to be a prosecution witness at the Libby trial, even though Rove is part of the narrative against Scooter Libby. And the reason that's significant is because prosecutors usually don't put subjects on the witness stand for tactical reasons if they want to leave open the possibility of later charging that particular subject in a separate case.
I'm not certain how close Fitzmas is to indicting Karl Rove at all, but check out the video and see what you think.