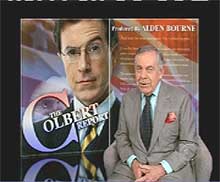 Morley Safer profiled Stephen Colbert's rise from "The Daily Show," to "The Colbert Report," into the man who just headlined at the White House Correspondents' dinner. They played some of his best clips from both shows which revealed the brilliance Colbert brings into our living rooms.

Download -WMP (low res)
Download -QT
CBS:
Colbert defines his no-nonsense philosophy with a single word: "truthiness." "Truthiness. Now I'm sure some of the word police — the wordinistas — over at Webster's are going to say, 'Hey, that's not a word.' Well, anybody who knows me knows that I'm no fan of dictionaries. Or reference books. They're elitist," Colbert jokes.
Asked to define "truthiness," Colbert tells Safer, "Truthiness is what you want the facts to be as opposed to what the facts are. What feels like the right answer as opposed to what reality will support."
Chris Durang: Ignoring Colbert:
This, by the way, is the same Washington event where Bush previously charmed many (and horrified others) by pretending to have trouble finding Weapons of Mass Destruction (after we'd started to realize they weren't in Iraq), and wandered the room looking under tables. Really cute, huh? They should send videos of that to the families of soldiers killed.
The media's ignoring Colbert's effect at the White House Correspondents Dinner is a very clear example of what others have called the media's penchant for buying into the conservative/rightwing "narrative."...read on"
No mention of Colbert on "THIS WEEK," but they did play the clip of Bush v Bush from the dinner.
Billmon nails it: "Colbert's routine was designed to draw blood -- as good political satire should. It seemed obvious, at least to me, that he didn't just despise his audience, he hated it. While that hardly merits comment here in Left Blogostan, White House elites clearly aren't used to having such contempt thrown in their faces at one of their most cherished self-congratulatory events....read on"
The website "Thank You Stephen Colbert," is getting a great response..