Colbert's response to his White House Correspondents' Dinner appearance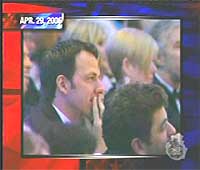 Stephen Colbert opened his show on Monday with a brief recap of his performance at the White House Correspondents' Association Dinner.

Download -WMP
Download -QT
Colbert: I delivered the closing speech and needless to say, the audience could not contain their excitement.
Colbert: Very respective silence. The crowd practically carried me out on their shoulders, although I wasn't actually ready to leave...