Flags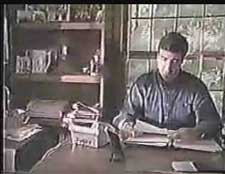 Since there has been a lot of talk about George Allen's fondness for the confederate flag. I acquired this video that Ryan Lizza writes about.
"It's hard to make out, because the video is fuzzy. The copy I obtained was originally recorded off a television using VHS in 1993 and then transferred to a second tape, further degrading the quality. But, once you know what it is, it makes sense. It sits folded on a bookcase of trophies and bric-a-brac behind George Allen, who is seated at a desk in his home office.
"It's right there next to the fax machine. You can see the red field. You can make out the diagonal blue bar. And you can see what looks like a white star. It is the Confederate flag, and it appears in the very first ad that Allen broadcast in 1993, when he ran for governor..."
Can you guys make it out?
Update: Allen's ad-maker confirmed toTNR that the confederate flag is there, but denies it was done on purpose.