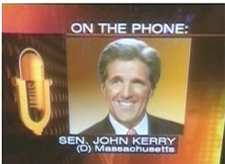 via Huffington Post: "The Senate Democrats take the lead in Iraq"
Kerry joined Imus this morning and stated the Democrats position on Iraq. (rough transcript)
Imus: Doesn't that just give them a heads up...
Kerry: No, what it does is provide the only opportunity for success. Stay the course is not a plan. And what this administration wants is to have a fake debate, as usual. There, there, you hear the drumbeat on every television show from every commentator, cut and run, cut and run, cut and run, cut and run. That's their phrase.
They've found their three words, they love to do that, and they're gonna try to make the elections in November a choice between "cut and run" or "stay the course." That's not the choice. My plan is not "cut and run." Their plan is "lie and die." And that's what they're doing...Our plan is very simple. It's re-deploy to win the war on terror. Change to succeed....
There's more...