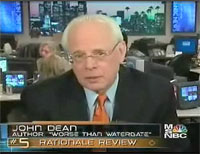 Mr. Dean joined Keith Olbermann yesterday to to talk about Alberto Gonzales' testimony during the NSA wiretap hearing.
Download -WMP
Download -QT (hat tip Shea for the vid)
DEAN: Well, they certainly raised those questions in the hearing today, and a number were searching for answers. Gonzalea obviously didn't come prepared to offer any kind of resolution. And that's been one of the surprising factors all along, Keith. It's one of the reasons we're having these hearings.
Bush is just saying to the Congress, it's an in-your-face situation, I think I have this authority, I'm not going to ask to have the law amended, and I'm going to just go ahead and do it my way.
Well, you know, that's a little bit frightening, because of the slippery-slope argument. And it's also just so contrary to the fact that we have traditionally been a country that follows the rule of law, for a very good reason. The rule of law controls power, and in our system, we just don't give presidents unlimited power, we don't give Congress unlimited power. And it checks and balances. And he doesn't want to play that game, though. So it's a very surprising move he's making.
(Keep your dials tuned into Keith)