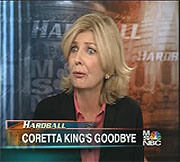 Listening to Snappy O'Beirne's false indignation over Reverend Lowry's speech is enough to make "Forrest Gump Mirengoff" get acid reflux. Well, maybe not him, but how low is Hardball sinking to have on a person that's not going to offer any type of feedback other than contempt? Never mind that she had the nerve to utter the name Paul Wellstone.
Chris Matthews should be ashamed of himself because he stood there mute as she danced all over Jimmy Carter's reputation because he broached a subject that Correta knew all too well. You used to work for him-remember?
Download -1-WMP
Download -QT (video in two parts)
Kate O'Beirne isn't fit to wipe Coretta Scott King's shoes and criticizing her on the day of her memorial service is disgusting. What kind of unfeeling ghouls have Republicans become? Oh and I think they need to apologize to the Reverend Lowry. He is a man of the cloth and a friend of the deceased. Are they saying that leaders of the African American church are less worthy of respect than the white churches they are so proud of representing? It sure sounds like it. Republicans, it seems, only respect the church when its leaders "behave" the way they deem appropriate...read on "
Let me put this simply: Kate O'Beirne needs to shut her filthy mouth. When black people were dying in New Orleans, they called us everything but a child of God. We were animals, looters, out of control. ...read on
It's nice to know that whenever MSNBC needs something said that is so ugly, so fulminatingly rancid and dog-whistle racist that even Bill Bennett will not show up and do the honors that a vile, bilious hatchet-faced nag like Kate O'Beirne is always at the ready....read on