Of course Fox News has to jump in with their twisted take on the story of Ahmed Mohamed, the kid whose civil rights were violated as a result of an overly zealous and paranoid English teacher in Irving, Texas.
But even for Andrea Tantaros, this is pathetic. We begin with her confusion.
TANTAROS: This story is really -- I mean it has everyone I think scratching their heads. This clock -- does anyone think that it did not look like a dangerous weapon out of a Die Hard movie?
Tantaros appears to be referring to the undated photograph of the clock, which seems quite disproportionate in size. Here's the photo. In particular, note how large the plug is in relation to the case. It was a pencil case, after all, not a briefcase.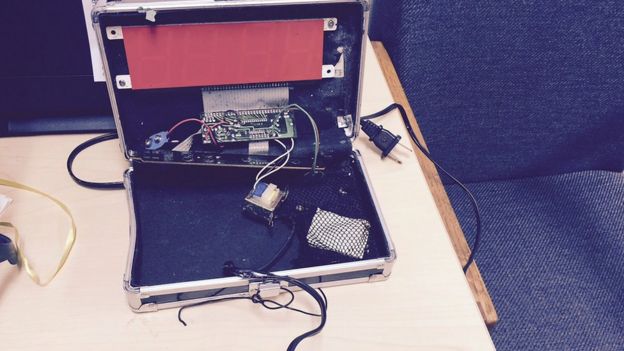 Then we come to how it's all Obama's fault anyway.
What the president did, Sandra, by elevating this story to national attention, is he basically got rid of "if you see something, say something." The teacher did her job. We have an FBI document out there right now that talks about what to look for. Okay? This is part of it and we've seen terror attacks before. We've seen them use cell phones and innate objects. And look, Ahmed is a smart kid. He's probably going to go to MIT and make a ton of money, but he did a really dumb thing and brought it to school and the president just elevated this to a national issue that doesn't deserve elevating frankly.
Compare and contrast the reaction to Ahmed with this story, where a Texas kid built a nuclear reactor at home and was applauded for it.
When another 14-year-old boy built a nuclear reactor at his parents' home he was invited to meet with officials from the U.S. Department of Homeland Security and the U.S. Department of Energy — who offered their expert assistance, equipment and encouragement to apply for a research grant.

Taylor Wilson, who is white, entered his nuclear fusion reactor five years ago in a series of science fairs that eventually won him a trip to Switzerland, where he toured the Large Hadron Collider — the world's largest particle accelerator.

Wilson, now 21 years old, later won $50,000 at a science fair for an anti-terrorism device he invented that can detect nuclear materials in cargo containers.
I searched, but could find no outrage from Andrea Tantaros about a kid building a nuclear reactor in his backyard.
The key to her outrage is her use of the word "them." We've seen "them use cell phones and innate objects," she says. That's just her way of saying "those brown Muslim terrorist people."
I'm not nearly as afraid of Muslims as I am of these zealous white haters, to be honest. They scare me far more than a curious and smart kid who turned a pencil case into a clock.