The FBI is rounding up all of the Bundy Ranch folks now, and their net is capturing some interesting characters.
Jerry DeLemus, Trump's New Hampshire co-chair and head of the Veterans for Trump group was arrested at his home in New Hampshire. DeLemus is married to NH State Representative Susan DeLemus, who has a colorful history in the New Hampshire State Republican Party as well. He is also a former chairman of the New Hampshire Republican Party. Both of them recently made headlines for saying they believe the Pope is the Antichrist.
The Federal Bureau of Investigation has taken custody of Jerry DeLemus, a New Hampshire Tea Party activist who previously made trips to Nevada to take part in the Bundy Ranch stand-off and the federal forestry building seizure in Oregon two months ago, according to reports.

DeLemus faces nine federal charges including conspiracy to commit an offense against the United States, threatening a federal law enforcement officer, obstruction of justice, attempting to impede or injure a federal law enforcement officer and several firearms charges, when he was in Nevada to support the Bundy family at the ranch.
Here he is in a photo, courtesy of Portsmouth Patch: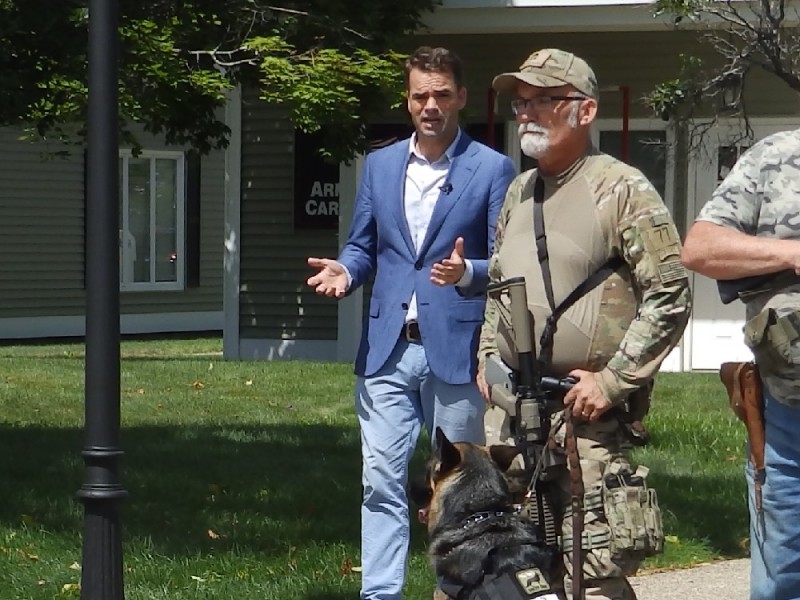 Eric Parker, who was a sniper on the bridge, has been arrested as well, according to reports, along with another sniper, Steve Stewart.
According to the Bundy Ranch Facebook page, Davey Bundy and Mel Bundy were also arrested for their participation in the Bundy Ranch standoff.
That makes six Bundys in jail, and lots of cohorts.
These trials ought to be fun to watch!
UPDATE: The U.S. Attorney has announced 14 more indictments, and all of those indicted have been arrested:
A superseding criminal indictment was returned by the grand jury on Wednesday, March 2, and now charges a total of 19 defendants. The 14 new defendants are Melvin D. Bundy, 41, of Round Mountain, Nev., David H. Bundy, 39, of Delta, Utah, Brian D. Cavalier, 44, of Bunkerville, Nev., Blaine Cooper, 36, of Humboldt, Ariz., Gerald A. DeLemus, 61, of Rochester, N.H., Eric J. Parker, 32, of Hailey, Idaho, O. Scott Drexler, 44, of Challis, Idaho, Richard R. Lovelien, 52, of Westville, Okla., Steven A. Stewart, 36, of Hailey, Idaho, Todd C. Engel, 48, of Boundary County, Idaho, Gregory P. Burleson, 52, of Phoenix, Ariz., Joseph D. O'Shaughnessy, 43, of Cottonwood, Ariz., and Micah L. McGuire, 31, and Jason D. Woods, 30, both of Chandler, Ariz.

...

The newly-added defendants are charged with one count of conspiracy to commit an offense against the United States and conspiracy to impede or injure a federal officer, and at least one count of using and carrying a firearm in relation to a crime of violence, assault on a federal officer, threatening a federal law enforcement officer, obstruction of the due administration of justice, interference with interstate commerce by extortion, and interstate travel in aid of extortion. The indictment also alleges five counts of criminal forfeiture which upon conviction would require forfeiture of property derived from the proceeds of the crimes totaling at least $3 million, as well as the firearms and ammunition possessed and used on April 12, 2014.
UPDATE 2:
Here's an interesting tidbit about one of the defendants:
One of the #Bundy arrestees, Rick Lovelien, put his name to a list of 'patriots' willing to put a hit on @POTUS https://t.co/hYPYGU64l6

— Karoli (@Karoli) March 3, 2016
Read the full indictment to see the roles each played in the standoff in Nevada:
Federal Grand Jury Superseding Indictment for Nevada Bundy case by CimaronNeugebauer
UPDATE 3:
The only Bundy son (Mark, nearly age 18), who has not been arrested makes a video and posts on Facebook, telling everyone it's "passed time." (Guess that homeschooling didn't work out too well for them.)