We need to talk about The New York Times.
What the hell is happening over there? As Seth Meyers demonstrates above, the editors and headline writers over at the Old Gray Lady really work hard to normalize Donald Trump.
And now, they've published an article on Supreme Court Justice Brett Kavanaugh that is almost as disturbing in the framing as it is in substance.
To wit, the article addresses accusations of sexual assault made by Deborah Ramirez during Kavanaugh's time at Yale. At the time of Kavanaugh's confirmation hearings, The New York Times was very, very careful to say that they were unable to corroborate Ramirez's statements. Remember too, that the entire 'investigation" that the feds did into Kavanaugh was rushed and incomplete to force his confirmation as quickly as possible.
But now, a year later, The New York Times, based on original reporter by New Yorker journalists, has confirmed that Deborah Ramirez was assaulted by Kavanaugh at Yale, as she said. But look how they framed it: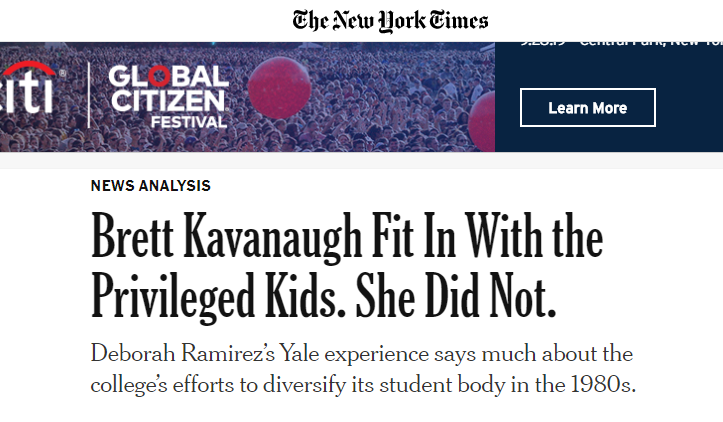 So he was a popular guy at Yale, and therefore, why wouldn't he pull out his penis at unsuspecting (and apparently, unpopular) females? Seriously?
If that's not bad enough, this is how they tweeted out the story originally.

Thanks for diminishing the pain and the humiliation of women into nothing more than "harmless fun," guys. Really shows you get it. After an outcry on social media, the NYTimesOpinion account deleted that tweet with a non-apology apology tweet, calling it "poorly phrased." When that got pushback for not being poorly phrased by just a really vile way to promote the article, the NYTimesOpinion account tried a third time.
But wait, there's more. That's not even the worst part of how The New York Times is burying the real story, counting on Americans to never read past the third paragraph, if that. If you actually read the article even further, you'll find this little gem:
You read that right, there was ANOTHER accuser, whose account was confirmed as well. Buried deep into the article, The New York Times slips in the inescapable conclusion that the Republicans have placed a serial sexual assaulter to a lifetime appointment at the highest court of the land.
But the framing from The New York Times is about how Kavanaugh was part of the "in crowd," not that he blustered and yelled his way into a position that he in no way deserves and ought to be impeached for.
The Kavanaugh story is one for which it is worth holding the Senate to account. Kavanaugh LIED to the Senate at his confirmation hearing. He should be impeached. Full stop. And Susan Collins should lose her Senate seat next year for being that last needed vote.
But The New York Times -- who never found a story about Hillary Clinton they couldn't inflate and milk for dozens of articles--also needs to be held to account for how they're failing the country.