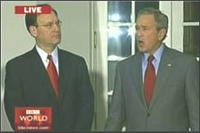 This was before the start of the hearing yesterday.
Bush: He's got the----intellect---ahh-to bring--a lot-a lot of class to that court.
Download -WMP ( hat tip David Edwards for the video)
I don't know if he got his wires crossed, but he can't even speak for a minute an a half without stumbling and bumbling.