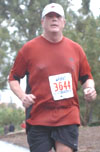 (via Tbogg)
As if this interview with Lawrence O'Donnell wasn't silly enough-(questions like these):
LO: Oh, my brothers are all lawyers. I must have talked to a dozen lawyers yesterday, including a former U.S. attorney...
HH: Who would that be?
LO: I'm not going to tell you who I talked to, Hugh. Of course I talked to a bunch of lawyers. It doesn't matter.
HH: Wait. Why should I believe you, Larry, if you don't believe the Vice President?
HH: Lawrence O'Donnell, I don't believe you. I don't believe you talked to lawyers who told you that Cheney was too drunk to talk. I just don't believe you.
HH: Do you have any name you'll give me that we can double check?
It goes on like that for while. I'm not sure why Lawrence didn't hang up on him. Now he goes after Helen Thomas who did hang up on him. Hewitt is a BuschCo. apologist extraordinaire. Read the exchanges here over at Kos.
Download -MP3-(should be ready in 10 minutes)
Helen nails him with this simple question:
Helen: I judge these people on their actions. Do you?