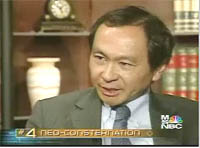 Francis Fukuyama, the author of "AMERICA AT THE CROSSROADS," joined Nora O'Donnell on Countdown last night and discussed the failures of the neo-conservative movement.
Keith: It is just three months now since congressman and decorated vet Jack Murtha was denounced on the floor of the House of Representatives as a, quote, "coward" for having even suggested we make a quick exit from Iraq. Our fourth story on the COUNTDOWN, now William F. Buckley is saying we should get out, and fast.
Download -WMP
Download -QT (hat tip Lynne)
Nora: In Iraq today, the three-day-old curfew was lifted. An uneasy calm after a wave of sectarian violence killed hundreds of Iraqis following last week's attack on the Shiites' holy shrine in Samarra. Now Iraq is teetering on the brink of civil war, and the reason is the failure of neoconservativism, says Francis Fukuyama...read on
Juan Cole looks at the latest violence in Iraq.
(Update): Sticking with the failing neocon ideal, Larisa interviews Michael Ledeen.