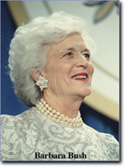 On the heels of her highly compassionate message to Katrina victims:
"And so many of the people in the arena here, you know, were underprivileged anyway so this (she chuckled)--this is working very well for them.".
comes this from the TaxProf:
"Former first lady Barbara Bush gave relief money to a hurricane relief fund on the condition that it be spent to buy educational software from her son Neil's company.---"It's strange that the former first lady would want to do this. If her son's having a rough time of it, couldn't she write him a check?" said Daniel Borochoff, founder of the American Institute of Philanthropy, a Chicago-based charity watchdog group. "Maybe she isn't aware that people could frown upon this."