Cornyn's Hypocrisy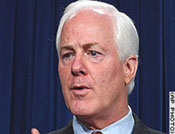 FDL found a little hypocrisy coming out of Cornyn's mouth at the NSA hearings Friday.

Download -WMP
Download -QT
Cornyn: "When I was looking this morning at one of the witnesses that's going to be testifying, that's selling a book and that is a convicted felon, it strikes me as very odd that the Judiciary Committee is giving … an opportunity to somebody under those circumstances as part of their marketing efforts.''
Now click to FDL and see how involved John was with Abramoff and the Casino scandals.