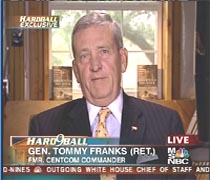 Tommy Franks joined Matthews to talk about the six generals (listed here) that have come out and asked for Rummy to get the boot. John finds an interesting nugget embedded in Woodward's book.

Download -WMP-pt
Download -WMP Pt2
Some of the critics of "the Generals," speaking out have talked about books they may or may not have written as a reason for the criticism. Franks has his book prominently displayed in this interview.
"On Hardball Friday afternoon, Gen. Tommy Franks, the commander of the Iraq war, was defending Defense Secretary Rumsfeld against the recent offensive by the retired generals. In passing, he said this:
"Ask him about the 14 months we spent planning this thing."
That would put the operational, as opposed to contingency, planning as having started in roughly January of 2002, about eight months later than what was implied in Joint Chiefs head Peter Pace's statement at the Pentagon briefing earlier this week."